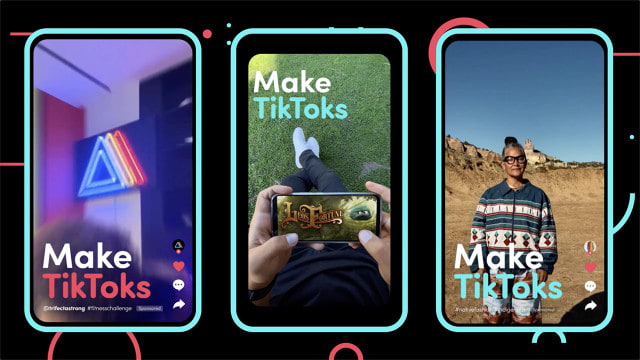 Promoted Content
7 ways TikTok works for brands
PARTNER CONTENT
Think TikTok is just about people doing the Stair Shuffle? Think again. The video-sharing app has had a significant impact on the cost-effectiveness of conversions. Sea shanties just got serious.
Fun hasn't been easy to come by in the past 18 months, so it's no surprise that TikTok has seen a huge spike in interest, putting smiles on the faces of people stuck bored at home.
The app now has 1 billion monthly active users globally with a much broader age range than people might think – research by Kantar reveals that 67% of people who use TikTok are over the age of 25.
TikTok's popularity has also soared with advertisers. Although the app made its name through personal dance and challenge videos, it has evolved into so much more, with users frequently shopping and sharing their discoveries with others on the platform. This TikTok shopping frenzy has even produced its own hashtag – #TikTokMadeMeBuyIt – chalking up three billion views of everything from Volvic Infusion Hibiscus Tea to silk pillowcases.
And TikTok users in 2021 are a focused bunch – 42% of the audience say they engage solely with TikTok (i.e. no multi-screening), compared with 33% of users on other social platforms. They also act on the inspiration they find: just under a quarter of users have bought something as a result of time on the app[1]. Of these purchases, 71% were unplanned, signalling that the content motivates purchases[2].
This strong connection with the platform's content and buying is down to the platform's ethos of entertainment says Nadia Morozova, consumer and audience insights partner at TikTok: "Our audience come to us to be entertained. So to get the most out of your performance marketing campaign, ensure that your creative speaks to that motivation. Aim for creative that's interesting, inspiring and fun. These elements drive better performance. In practice, that means you should make ads that feel joyful and native to the TikTok experience."
TikTok's marketing team has worked hard to help advertisers capitalise on the shopping-hungry audience via its 'TikTok tactics', customised tools designed to enhance activity across attribution, creative, bidding and optimisation. The net effect for advertisers is that TikTok can deliver substantially more cost-effective campaigns than other platforms[3].
Using insight from TikTok, Campaign has highlighted the striking results of seven collaborations with advertisers. Read on for the inside track on how to get the best out of this lively platform.
1. Motatos – dynamic changes to optimise attention
Some of Tiktok's biggest successes have happened for food and drink advertisers, with an average 50% higher Return on Advertising Spend (ROAS) than other digital platforms[3]. German food brand Motatos, on a mission to rethink food waste and sustainable eating, scored an even higher ROAS (66%) when it adopted TikTok's new measurement feature in the TikTok Ads manager.
The brand served ads within TikTok's For You feed – this, coupled with using TikTok's precision audience targeting, meant viewers responded well. Motatos adjusted creative dynamically, thanks to the platform's Automated Creative Optimisation (ACO) tool, experimenting with different assets and copy for the best results. The Developer Mode Pixel (DMP) tool tracked the detail of conversions.
2. James Allen – mirroring native style
Jewellers James Allen launched a prospecting campaign, showcasing their engagement rings and its website with a dedicated TikTok creative ad. It based the ad on a popular trend and included TikTok's familiar editing features such as voiceover and text box for a native tone and style.
The campaign was a major success for James Allen with strong results both in user engagement and user quality metrics. More than 15 million views, along with 175,000 likes and thousands of shares helped spread the word across TikTok even further.
The CPM was lower by 66%, the CPC was lower by 67%, there was a 12% decrease in CPA against other social channels. The campaign also drove over 3,500 newsletter sign-ups.
3 Grover – all the unboxing fun
Grover is a Berlin-based start-up that loans out consumer electronics. It wanted to reach a large audience at the lowest possible cost. TikTok's ACO tool and DMP helped it realise those twin aims. DMP tracked website conversions, created custom event rules and enriched conversion data with parameters (granting access to metrics like ROAS).
Creative was key too: ads featured users unboxing products, capturing all the excitement of receiving something new, while fitting neatly into the style of TikTok's native content.
In terms of cost-effectiveness, the net effect was dramatic. Grover achieved a 94% lower CPM with TikTok compared with activity on other digital channels – and a 24% lower CPA.
4. Goodiebox – a powerful creative partnership
An online cosmetics company that provides beauty subscription boxes to women all over Europe, Goodiebox wanted to create the best possible creative to drive up conversions.
TikTok's solution was to bring the brand into its Creative Partner Pilot programme, teaming Goodiebox up with Shuttlerock. This agency tailored ads to slide unobtrusively into users' For You feeds. Featuring visuals of make-up routines, beauty boxes and real-life examples with strong calls to action, they echoed the style of other TikTok videos while offering a neat way to direct users to a brand landing page.
The results were clear: 16% lower CPA and an 11% CTR increase.
5. Nina Ricci – a sampling hit
The perfume brand wanted to reach a new audience in Spain with a new fragrance – Nina Rose. TikTok's solution was to arrange its first product sampling campaign in the country: users could request a free sample within the app. Creative featuring a well-known Spanish creator unboxing the product clearly hit the mark as the conversion rate for this activity hit an impressive 41.85%, accompanied by an 83% reduction in CPL.
"The results are enviable and this is undoubtedly the start of a long-lasting professional relationship that will continue to drive reach and engagement for our brands," said Chelo Fernández-Yáñez Mediante, digital marketing & CRM manager at brand owner Puig.
6 Bytro Labs – a clear product demonstration
This German video game developer ran a campaign for Conflict of Nations with the objective of increasing app installations in a cost-effective way. The creative featured a player explaining how to play parts of Conflict of Nations, showing elements of the game on screen and narrating in tandem, followed by a clear visual call to action to install the app.
It worked as product placement in a way the community understands. The ad drove 69,000 new registrations with 76% higher pay conversion and 70% lower cost per install (CPI).
7. The Essence Vault – the sweet smell of social success
Another advertiser to reap a substantial reward from TikTok's Spark Ads solution is fragrance brand The Essence Vault. New to TikTok, it managed to increase its ROAS by 23% via Spark Ads. Spark Ads helps branded content fit unobtrusively into users' feeds and boosts organic videos as TopView or In-Feed Ads to a targeted audience from the brand's own content or a collaborating creator. Users can follow the creator directly by tapping the '+' button or swipe left to view their profile. A CTA button drives users to an external landing page to explore more.
What is clear from all this top-performing activity is that all the brands successfully (and unobtrusively) mirrored the style of organic content on TikTok, as well as making full use of the tools developed by the platform to drive impactful performance.
[1] TikTok Marketing Science Global Time Well Spent 2021 conducted by Kantar. Results for: UK, France, Italy, Spain and Germany.
[2] Marketing Science EU Holiday Shopping Behaviour Research 2020 conducted by Walnut Unlimited.
[3] TikTok & Neilsen EU CPG MMx research * Unless otherwise detailed, all case study data comes from XYZ